Estate and Trust Shipping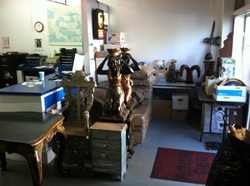 Estate and trust shipping
can be, by its very nature, a stressful endeavor. Let the Packaging Store's
estate and trust shipping
services help ease some of the strain of your relative's passing or downsizing. Trusted among moving companies, our experts will
come directly to the home
, expertly package the items for you, and then ship those items to multiple destinations with the care and gentleness that you yourself would use in this delicate situation.
Antiques
, documents, jewelry and furniture will all be handled with the utmost concern and sensitivity, and you will rest assured that your loved one's mementos and keepsakes will be treated with the respect they deserve by one of the most trusted moving companies in the business.
We'll
custom fit boxes and supplies
for oddly-shaped furniture, and make sure fine china and memorabilia arrive damage-free
anywhere in the world
. You know that each of the Packaging Store's franchises is stocked with all of the
packaging and shipping supplies
your estate shipping situation might need, but each Packaging Store is also stocked with something more important: people just like you. We understand what a difficult task
estate and trust shipping
can be. When we come into your relative's home, it isn't simply "to get the job done." We want to treat you as we would like to be treated during our own hard times: with courtesy and respect.
If you're looking for the
best estate and trust shipping service
—your search is over!
At the Packaging Store, we are committed to handling your estate shipping needs with sensitivity and consideration.
When a loved one has passed away, the last thing a family needs to deal with is shipping headaches. If you
want to ship estate items to multiple destinations, Packaging Store can handle
it all –
pickup
,
shipping
,
packing
and
delivery
. We can even store the items
temporarily until you decide where you want them to go.
After a death is a very stressful time and the last thing you should stress about is how to ship all the articles to multiple destination. Our Packaging Store experts will come into the home, inventory the items and package them all for safe transport. Whether you
need a few loads in town, cross country or around the world, Packaging Store can safely ship all your family heirlooms and sentimental
items.
At the Packaging Store, we make complex estate and trust distribution simple!
*
Convenience
- Ship multiple estate items to multiple locations, locally or around the world. We'll be your single source for all pickup, storage, sorting,
packing
, and
shipping
needs.
*
Safety
- We protect your items, no matter how large, fragile, or valuable.
*
Ease
- Local door-to-door pickup and delivery.
*
Economical
- Don't pay mover minimum of 1,000 - 2,000 pounds when you have just a few items to ship. We welcome
small moves
.
*
Protection
- Transit insurance available on everything we pack and ship.
---