Antique Shipping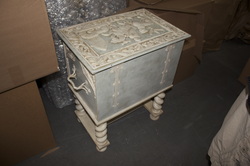 Antiques can be old, fragile, easily scratched and bulky. We have the packaging solutions to either
crate, blanket wrap or palletize your items and get them to their destination
undamaged securely and cost effectively.

We started the Packaging Store when a family member purchased antiques in Santa Barbara and wanted them
sent home. Since then our antique shipping services have been in demand, trusted for our ability to ship large antiques, including furniture and other large household items, as well as commercial display pieces, mirrors, grandfather clocks and more.

Whether you're shipping one piece of heirloom furniture or have multiple destinations in an estate distribution, our custom antique shipping services will ensure your antiques will be packed, crated, and shipped safely to any location worldwide.

The size, fragility and value of your antique shipment will determine its packaging needs. For instance, we may suggest a blanket wrap service, where will come inside your home, safely prepare your antiques for transport and then deliver them gently inside to their destination.
If antique crating is a better option, we will create a custom crate that is well blocked and braced to survive the rigors of transport.

No matter what antique shipping and antique packaging option you choose, Packaging Store will give you pickup and delivery options to meet your time frame and budget. From special crates, acid-free tissue paper to glass masking tape, we know what it takes to make sure your valuable stays that way.