Wine Shipping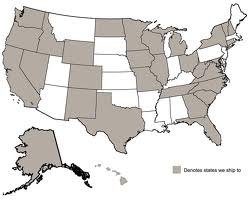 California is noteworthy for its wineries and vineyards. Whether you're a consumer trying to ship home a couple of cases of your favorite Merlot or a vineyard who needs to distribute hundreds of cases per month, we can take care of all wine shipping and packaging needs.


Maybe you're on vacation and you would like us to pick up your wine shipment at your hotel. Or maybe you're a wine collector and bring in bottles from all over the world. No matter the circumstances, our wine shipping rates are reasonable

We can legally ship twine o the following states: Alaska (excluding dry counties) , Arizona, California, Colorado, Connecticut, District of Columbia, Florida, Georgia, Hawaii, Idaho, Illinois, Iowa, Michigan, Minnesota*, Missouri, Nebraska, Nevada, New Hampshire, New Mexico, New York, North Carolina, North Dakota, Ohio, Oregon, South Carolina, Texas, Virginia, Washington, West Virginia, Wisconsin and Wyoming.


---